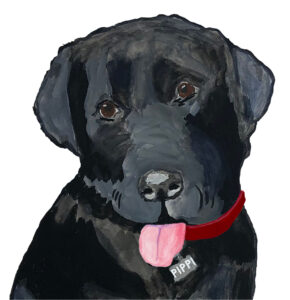 Tails with Gig
Stories from the Dog Blog
Tails with Gig follows a Black Lab's escapades during the pandemic as she grows from a puppy to a young dog. The book's stories and illustrations depict the Labrador Retriever's point of view as mischief unfolds on every page.
Tails with Gig can be purchased at Wellesley Books, 82 Central Street, Wellesley, MA, and on Amazon.com
Proceeds donated to Cummings School of Veterinary Medicine, Tufts University.
Pippi Rocks, More Stores from the Dog Blog
 Pippi Rocks, More Stories from the Dog Blog, is a charming tale of a curious, exceedingly clever Young Dog's exploits. The antics of Pippi, a black Labrador Retriever, are non-stop in these tales of her mischievous adventures by Katherine (Gig) Babson.
The book is a warm and inspiring affirmation of how a dog's and its owner's reciprocal love brings deep and unique meaning to their lives.
Katherine Macdonald's illustrations playfully capture Pippi's capers with her bright and animated watercolors.
Enjoyed by those from ages 4 to 94!